Assistant Director
INTERPOL
France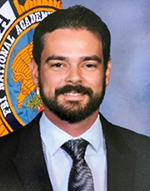 Valdecy Urquiza is a Commissioner at the Brazilian Federal Police (BFP) and serves as the Assistant Director of Vulnerable Communities at the Interpol General Secretariat in Lyon, France.
Previously, he worked as Head of Interpol's National Central Bureau in Brazil, Head of the International Police Cooperation Division and Chief Information Officer of the BFP. Valdecy played an active role in implementing the use of API and PNR by the BFP and its interconnection with Interpol's I-24/7 platform.
He holds a bachelor degree in Law and postgraduate diplomas in Public Administration from Ibmec University, in Strategic Sustainability Management from the Pontifical Catholic University of Sao Paulo, and in Criminal Justice from the University of Virginia. He is a graduated from the FBI National Academy 267 Session in Quantico, Virginia.