Governor of Tillabéri Region (South-Western Niger)
Ministry of Interior, Public Safety and Decentralization
Niger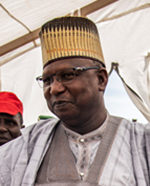 Tidjani Katiella is, since January 2017, one of the 7 Governors of the State of Niger. The Governorate of Tillabéri is a deconcentrated body of the Ministry of Interior, Public Safety and Decentralization of Niger.
Originally member of the Civil Service of Niger, Tidjani Katiella graduated from the National Administration School of Niger (ENAM), and served as Prefect at local level and Deputy at the Nigerien National Assembly.
In the Region of Tillabéri, the Governor is responsible for national interests, implementing law, regulations and decisions of the executive government. As President of the Regional Security Council, he is responsible for the security, maintenance of public order and civil protection, and has authority on the National Guard, National Police, Gendarmerie, Civil Protection at Regional level. The military authority has a duty to inform him of any matter of special importance for the Region.
Tillabéri is an administrative Region in Niger, whose capital is the city of Tillabéri. The Region was created in 1992, when Niamey Region was split, with the area immediately outside Niamey renamed as the capital district. The region is bounded to the north by the Republic of Mali, to the east by the Regions of Tahoua and Dosso (Niger), to the south by Benin and to the west by Burkina Faso. The economy of the region of Tillabéri is based primary on agriculture, livestock and fishery production. However, Tillabéri is rich in mineral resources and increasingly attractive for mining activities. The Region's great touristic potential has been deeply affected by the deteriorating security situation in neighboring countries. In addition to the five (5) departments already under state of emergency since 2017 at the border with Mali (Banibangou, Bankilare, Ayerou, Ouallam, Abala), security restrictions were extended to the three (3) additional departments of Say, Torodi, Téra near the Burkina Faso Border on 30 November, 2018 by Council of Ministers.