Ambassador at large
Ministry of Foreign Affairs
Lithuania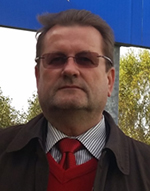 Ambassador Rimutis Klevečka works at the Ministry of Foreign Affairs of Lithuania. He holds a position as a Special Envoy for Border management. Prior to this position, he served as Lithuanian Ambassador to Slovenia. He has an extensive experience of 29 years' service in economic diplomacy and experience of 6 years' service in Lithuanian Customs, which include working on Customs Establishment, Modernisation, Enforcement, Capacity Building and Integrated Border Management projects.
From 2002 till 2008 he was seconded by the Ministry of Foreign Affairs of the Republic of Lithuania to Customs Department under the Ministry of Finance of the Republic of Lithuania into position of the Director General to complete modernization of Lithuania Customs and to conduct its preparation to join the EU Customs Union. The reforms in Lithuanian Customs performed in close cooperation with DG TAXUD and World Customs Organization (WCO). He is a chartered Mathematician and holds MBA and BSc degrees from Vilnius University, Lithuania.