Senior IBM Specialist and Manager of the IOM African Capacity Building Centre
IOM
Tanzania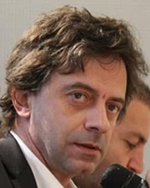 Nelson Goncalves is the Senior IBM Specialist and Manager of the IOM/UN African Capacity Building Centre (ACBC ‐ http://www.acbc.iom.int/).
The ACBC contributes towards ensuring effective migration management across African borders in accordance with international good practice, by upholding migrants' rights and facilitating safe and regular channels of migration while addressing irregular, exploitative and criminal abuse, and by balancing facilitation and security.
Furthermore, ensures that its technical support aligns with the Africa Union normative frameworks, vision and strategies on labor and human mobility, migration and development and migration governance as per the IOM's continental strategy for Africa, as well as the Sustainable Development Goals (SGDs) and the Global Compact for Migration (GCM).