Security Technical Advisor, Department of defense and Security
Nigerien Prime Minister's office
Niger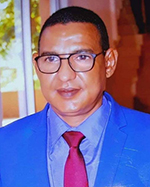 Mr. Daouda ALGHABID was born in 1970 in Tahoua. He obtained the rank of Major in the Nigerien Armed Forces, and also graduated from the National Police Academy. From 2004 to 2006, he worked for the National Police as Assistant Commander of Immigration Services at the Niamey International Airport. He then worked in various capacities in the National Police and other security roles before being named as Delegated Administrator, Office of the Mayor of Arlit in 2010.
In addition, Mr. Daouda ALGHABID worked for the UN Peacekeeping Mission in the DRC (MONUC) from 2007 to 2010, and again from 2012 to 2013, most recently in the capacity of Supervisor of Police.
In 2011, Mr. Daouda ALGHABID was appointed as a Security Technical Advisor to the Prime Minister of Niger. After his second deployment with MONUC, he again assumed this role in 2013 until the present.