Anton Travner, MSc
Director, Head of DCAF Border Security Programme
DCAF Ljubljana
Slovenia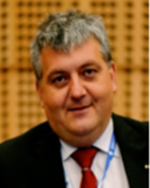 Anton Travner, M.Sc. is the Director of DCAF Ljubljana, the regional office of the Geneva Centre for Security, Development and the Rule of Law (DCAF), which is dedicated to improving the security of states and people within a framework of democratic governance, the rule of law and respect for human rights. He is the Head of the DCAF Border Security Programme in the Western Balkan Region (BSP) which focuses on raising the efficiency of border management authorities in Southeast Europe and enhancing cooperation to successfully mitigate modern and occurring security threats to regional and European border integrity. As Director of DCAF Ljubljana he also leads the Western Balkan Border Security initiative within the Integrative Internal Security Governance, a European Commission approach to coordinated, aligned and sustainable effort in the major fields of internal security governance reform on part of the EU and all relevant international donors of external assistance.
Anton is responsible for strategic management and is closely involved with all issues related enhancement of capacities related to Border security and has been the main protagonist for common and coordinated operations in the WB region.
He is an expert on police and border management issues and has previously worked as the Head of Department for Border Security and Head of Sector for Border Security and Foreigners in the General Police Administration, within the Ministry of the Interior of the Republic of Slovenia. He also worked as Head of the minister's cabinet; Head of Service of the Director-General of the Police, and Head of Service for International Relations of the General Police Directorate. He was a member of the national negotiating team in the Slovenian EU accession process (Chapter 24) and has led several multi-lateral projects focused on security and police cooperation in Southeast Europe.